Ibiza with kids [2023]: The Ultimate Guide
A small but charming island just off the Eastern coast of Spain, Ibiza is part of the Balearic island group (Majorca, Formentera, Menorca and Ibiza). Ibiza has a reputation for its world-famous clubs. However, visiting Ibiza with kids is a fantastic experience. In my opinion, Ibiza is the best island in Spain for families.
This post will take you through the best things to do in Ibiza with kids, the best places to visit in Ibiza for families, Ibiza family holidays and plenty of insider tips.
There's something for everyone in Ibiza, whether you fancy staying in a lively resort, next to a small secluded beach or even going off the beaten path altogether.
There are plenty of family-friendly activities in Ibiza too, whether you want to visit a nearby resort town, find that perfect beach or visit an attraction.
This post may contain affiliate links, which means I may receive a commission, at no extra cost to you if you make a purchase through a link. Please see my full disclosure for further information.
Ibiza Map
Is Santa Eulalia Good for Families?
Santa Eulalia is the third largest resort in Ibiza and one of the best areas for families to base themselves for exploring the rest of the island. The town features its own beautiful beach, plenty of shops and world-famous cuisine.
Regular water taxis run from Santa Eulalia to the nearby towns of Es Cana to the North and Cala Llonga/Ibiza town to the South. The bus station is ideally located in the town centre to explore Ibiza.
Things to do in Santa Eulalia, Ibiza with kids
Watch an Ibizan Sunrise
Although Ibiza is world-famous for its sunsets, Santa Eulalia is located on the Eastern side of Ibiza. Although the sunsets aren't visible, a sunrise is a must-see if you're up early with the kids.
Puig De Missa
Puig de Missa can be seen all around Santa Eulalia. Climbing to the top should take around 1/2 hour. If you have little ones, think about using a baby carrier as there are many steps to climb.
At the top, you will be rewarded with a fabulous view of Santa Eulalia and the surrounding areas, as well as being able to visit the hilltop church, a beautiful 16th centaury Ibizan style building.
Tip | Don't attempt to climb the hill in the midday sun with kids. The climb is best enjoyed in the morning or late afternoon.
Climb Siesta Hill
Siesta Hill is located on the far side of Santa Eulalia and is visible in the photo below as the backdrop. A walk to the village of Siesta will give you more of an insight into the Ibizan culture. You'll start by walking along a bridge into the village where you can see where the water meets the sea.
If you want to climb the hill, you'll be rewarded with stunning views of the whole of Santa Eulalia and beyond. The hill is scattered with multimillion-pound villas, which kids will love to spot as they walk past.
Mariners Beach
You could spend your entire holiday on Santa Eulalia beach. The beach is sheltered, meaning the water is calm and brilliant for kids to swim in. It's also less crowded than other beaches in Ibiza, giving you that extra bit of tranquillity.
Mariner's Beach is fully stroller accessible with a huge wheelchair ramp going onto the beach and wooden planks going almost into the sea. The sand is easy to pull a stroller along too.
There are plenty of shops backing the beach with all the beach items you may have forgotten as well as some cool beach bars and takeaways for lunch.
Watersports on Mariners Beach
There is a whole host of water sports available on Mariner's beach. If you're looking for something fast-paced, there's water skis, jet skis and windsurfing available. For a more relaxing experience, you can hire a canoe or a kayak.
Take a walk around Santa Eulalia Marina
Santa Eulalia Marina is home to both residents and visiting boats and yachts. Take a stroll along the marina and take a look at all the moored luxury yachts. Kids will love spotting their favourite yachts and seeing the sheer size of some of them.
Siesta Beach
Siesta beach is just a short walk away from Mariner's beach in Santa Eulalia. The beach is somewhat smaller than Mariner's beach, with more of a relaxed atmosphere. Here you can rent parasols and sunbeds for the day and grab snacks from the small beach bar.
A water-taxi Ride
Regular water taxis run around the Eastern coast of Ibiza, where you can take a day trip to Es Cana, Cala Llonga of Ibiza Town. It's a great way to see the island differently, and kids will love being on the boat.
Where to stay in Santa Eulalia with kids
Orquidea Aparthotel | This beachfront aparthotel features 102 apartments, a vast pool, a paddling area, a daily kids activity programme and a playground. View the latest prices and availability here.
Tropic Garden | This hotel is on the beachfront promenade and just 800 meters to town. Ideal for families, there are plenty of facilities for the kids. With a large free-form outdoor swimming pool, spacious sun terrace and plenty of loungers, you will be sure to find your favourite spot to soak up the sun. Kids will love the separate kids pool and splash pool with a kids club. There's also an option to buy an all-inclusive package. View the latest prices and availability at 'On the Beach.
Es Cana- One of the best places in Ibiza for families
The resort town of Es Cana was built with families in mind. It's the perfect place to base yourself on a family holiday. Es Cana is one of the cheapest places to stay in Ibiza, with most places being very nearby the beach. You can choose between a self-catering apartment or one of the all-inclusive beachfront hotels.
Things to do in Es Cana with kids
Es Cana Beach
You could easily spend your whole holiday in Es Cana, especially with kids. This long stretch of beach has plenty of sunbeds and parasols to rent. If you have older kids, they will love the range of watersports on offer with pedaloes and canoes available to hire.
The water is picture-perfect – a clear blue colour and calm, so great for a swim with kids. There's a huge variety of beach bars and cheap takeaways lining the beach, so you won't have to worry about food and snacks.
Hippy Market
If you happen to be in Es Cana on a Wednesday. You'll find a huge variety of handmade items from all over the world. There's usually live music too, which really adds to the atmosphere.
To find out the opening times during your visit or to find out more about the market, visit the Hippy Market Facebook page.
Cala Nova Beach
A short walk around the coast from Es Cana will take you to the neighbouring beach of Cala Nova. Surrounded by trees and Ibizan hills, Cala Nova beach is very different from the bustling beach of Es Cana. There are still sun-loungers to hire and a small beach bar. The beach is just around the corner from Es Cana beach. If you're feeling adventurous, there are many walks in and around the beach area through the trees lining the beach.
Tourist Train Es Cana
The Es Cana tourist train has 2 main routes from Es Cana and others leaving from nearby resort towns during the summer season. The beaches route takes you to Es Figueral, Es Pou des Lleó, Cala Boix, past the coast of Cala Mastella and a chance to swim at the sandy Cala Leña beach before returning to Es Caná. The second routes transport you to the heart of the Ibizan countryside to San Carlos with its traditional church and farmhouse buildings. You'll then visit a small beach bar before heading back to Es Cana.
Journey Times | Every day apart from Wednesday. 10:30AM beaches route and 15:30 country route.
Acrobosoc Ibiza Treetop adventure park
This fantastic outdoor adventure park is located just behind Cala Pada beach between Santa Eulalia and Es Cana. Three circuits are available depending on age, with the best age to visit being 3-18. There are 3 circuits to follow which include 39 different platforms (2-6m), 20 ziplines (4-65m) and 49 obstacles for the perfect day of family fun in Ibiza!
Ibiza with kids | Where to stay in Es Cana
Alua Miami | A jaw-dropping setting overlooking one of Ibiza's most beautiful bays. Perfect for beach-loving families and couples alike, the hotel is an excellent choice for a chilled-out break. The hotel features a playground and mini-club for the kids – and the on-site animation team are on hand with tons of fun-filled activities throughout the day. View the latest prices and availability at 'on the Beach'.
Hotel Caribe | 100 yards from Es Canar Beach, Hotel Caribe offers 2 outdoor pools, a free gym, a sun terrace with free loungers and a multi-purpose sports court. The restaurant serves varied buffet meals, and there is also an entertainment programme involving activities and shows. Family rooms and cots are available. View the latest prices and availability here.'.
For more information on Es Cana, take a look at our post 'A day trip from Santa Eulalia to Es Cana'
Ibiza Town | Is Ibiza town good for families?
As the capital of Ibiza, there is so much to see and do in Ibiza Town. From exploring its No.1 attraction Dalt Villa to strolling around the port and walking to nearby beaches, there's plenty for all the family.
Things to do in Ibiza Town with Kids
Dalt Villa | Ibiza town Castle
The star attraction of Ibiza town is the castle which towers above the town and is visible most of the way down the main motorway in Ibiza. A visit to the castle involves a climb through winding cobbled roads with lots of history attached to them. At the top, you will be rewarded with a panoramic view across Ibiza and out to sea.
A visit to Ibiza's port
Puerto de Ibiza is a great place to visit with kids. The port has excellent views of Dalt Villa and features a huge variety of luxury yachts to spot. You may even see a cruise ship docked.
Cala Llonga – One of the best family resorts in Ibiza
This picturesque, family-friendly beach is, in my opinion, the best place for a chilled holiday in the sun with kids. Behind the beach is a children's play park and mini amusement park. Behind the beach is a long shopping street with plenty of souvenirs and all the essentials to hand for a perfect holiday.
Things to do in Cala Llonga with Kids
Tourist Train Cala Llonga (May 7th – October 7th)
Departing from the Es Cana promenade, the tourist train of Cala Llonga runs every day but Wednesday on a journey along the beautiful coastline of Ibiza. The first stop is the Fisherman's cove of port des Lleo. Secondly, you'll visit Cala Boix beach with its dark sand that kids will love to look at. The last and star stop of the trip is a visit to Es Figuerel. The journey is 3 hours in total.
Journey Times | Every day but Wednesday at 10:30AM
If you fancy a trip into the countryside of Ibiza, there's another train route which leaves everyday bud Wednesday at 15:30PM. First, you'll visit San Carlos village before visiting an old farmhouse and Ibizan church. After stopping at a picturesque beach for a snack, you'll travel back to Es Cana. The trip is 3 hours in total.
Journey Times | Every day but Wednesday at 15:30PM
Admission | Adults 16 euro | Kids (3-12) 8 euros | Under 3 FREE
Where to stay in Cala Llonga with kids
Apartamentos Ses Veles | Just a stone's throw away from Cala Llonga beach, there's also a pool surrounded by gardens. Apartments can fit up to 6 adults, and cots are available on request. View the latest prices and availability on Booking.com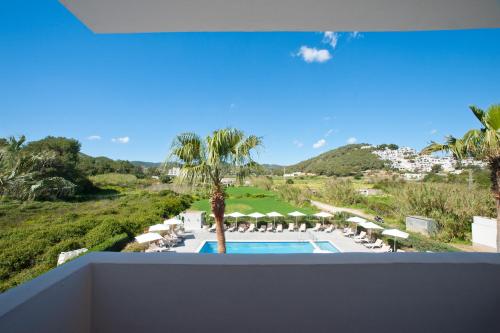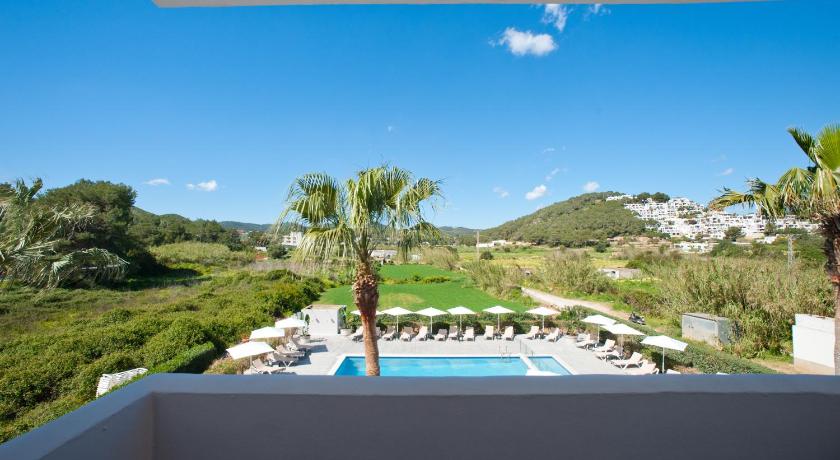 San Antonio | Is San Antonio good for families?
The Sunset Strip
People worldwide visit Ibiza to view the perfect Ibizan sunsets, and the Sunset strip is the ideal place to see it. The strip is lined with world-famous bars, with the main attractions being Cafe Mambo and Cafe del Mar. You can either book a table or perch yourself on a wall or on the rocks below to watch the sunset for free. Many visit the sunset strip before a night out in Ibiza, but there's also plenty of families there too, and if the kids can stay up, it makes a great family-friendly activity.
Note | Staying in San Antonio Bay or Cala Tarida will give you sunset views from your hotel. However, there's nothing like viewing the sunset with a backdrop of Ibiza music!
Cala Conta
Cala Conta has everything you need for a perfect beach day – clear seas, soft sand, shade and picturesque views out to sea.
How to get to Cala Conta
It's hard to find parking near Cala Conta, so the best way to get there is from San Antonio. You can either catch bus No.4 from San Antonio Bus Station or a stop in San Antonio Bay or board a water taxi which will cost you around 7 Euro.
Cala Salada
Fringed with palm trees and close to San Antonio, Cala Salada is one of Ibiza's prettiest beaches. A small strip of sand accompanies perfectly clear turquoise water, perfect for kids to swim in!
How to get to Cala Salada
A bus leaves san Antonio every hour. However, the beach is hard to get to from the road and near impossible to drive to. The best way to visit with kids is to go by beach cruise from San Antonio harbour. The boat will take you right to the heart of the beach for a perfect family day out.
Ocean Beach club for Kids
If you want to relive your partying days, Ibiza is a great place to do it with kids. The island is home to some of the best clubs in the world. One day a year, the outdoor party venues Ocean Beach opens its doors to kids with dancing, treasure hunts and cooking workshops to raise money for children with disabilities in Ibiza. Furthermore, Ibiza's famous sunset strip is also family-friendly. Every night, renowned DJ's from all over the world play at Ibizas sunset bars of Café Mambo and Café Del Mar. You can either find a quiet place on the rocks to watch the sunset or book a table at one of the sunset bars. You can even book a boat trip for a more private family experience.
Cap Blanc Aquarium
This natural aquarium is set in an underwater cave and features the native species of Ibiza. All animals are in their natural environment – a truly memorable experience. Some animals are in rehabilitation because of the damage caused by fishing.
Family Friendly Hotels in San Antonio
Playa Bella Apartments | Overlooking Punta Xinxó Beach and the beautiful San Antonio Bay, the Apartments have a large swimming pool and children's splash pool. Playa Bella's studios and apartments all have balconies, some with sea views. They also have modern kitchens with a microwave, fridge, toaster and kettle. There is a wide range of entertainment, including nightly shows. View the latest prices and availability here.
Els Pins Resort & Spa | Located in San Antonio Bay, just a short walk from San Antonio, Els Pins features a seasonal outdoor pool and lounge area. My favourite part of the hotel was the kid's playroom, with plenty of activities to keep the kids entertained. Cots are available on request, and some rooms sleep up to 4 adults (3 adults/1 child). View the latest prices and availability here.
For more information on San Antonio, take a look at our post 'A day trip from Santa Eulalia to San Antonio'.
Cala Gracio – One of the best beaches in Ibiza
Cala Gracio is definitely the prettiest place in Ibiza. The beach has become my favourite over the years. The beach is within walking distance of San Antonio, carrying on along the road from the sunset strip. Regular boats leave San Antonio harbour to Cala Gracio.
Cala Gracionetta
Take a walk around the back of Cala Gracio (or swim) to Cala Gracionetta, a tiny picturesque beach. There are sun loungers and parasols to rent if you fancy it. There's also plenty of room to place a towel. El Chiringuito, the small restaurant overlooking the beach, is well worth a visit.
Playa d'en Bossa
Playa d'en Bossa beach is one of the whitest and longest beaches in Ibiza, stretching from Sas Salines salt flats all the way to nearby Ibiza town.
Aguamar waterpark
The Aguamar water park is also a hit for families, located in the resort of Playa d'en Bossa, with a huge amount of slides to choose from.
Where to stay in Playa d'en Bossa with kids
Grand Palladium White Island Resort & Spa | Located right on the beachfront of one of Ibiza's most extensive beaches, the Grand Palladium is the perfect place to spend a family holiday in the sun. There's also a large pool and snack bar and nightly entertainment. A stay at the hotel is an all-inclusive package. Cots are provided on request, and rooms sleep up to 3 adults (2 adults/2 kids). View the latest prices and availability here.
San Miguel
From yoga to paddleboarding, you'll be sure to have a relaxing family holiday in the sun here. The resort features a long sandy beach with crystal clear waters, backed with palm trees. There's plenty of water sports on offer, too from pedaloes, and banana boat rides to diving and sailing lessons – perfect for teens.
Where to stay in San Miguel, Ibiza with kids
Balansat Resort | Surrounded by pine forest, this apartment complex is next to the beach. This apartment complex offers 2 outdoor pools and a children's pool with slides. In the surroundings, you will find scuba-diving, windsurfing and water skiing down at the beach. The beach is sandy, and its shallow waters mean it is very suitable for families. View the latest prices and availability here.
Portinax
This exclusive quiet beach in the North of Ibiza is well worth a visit.
S'Arenal Gros Beach
One of Ibiza's best family beaches with beautiful turquoise sea and calm waters. There are lifeguards during the summer as well as sunbeds and parasols to rent. You can also try your hand at watersports with pedaloes and snorkelling gear available to hire.
Tourist Train Portinax
A scenic tour around the nearby coast of Portinax by land train. First off is a stunning ride along the coast of Xarraca. You'll visit San Miguel, where you can stop off at the Can Marca Caves. The third stop is San Juan, a traditional village with a great church before travelling to Portinax.
Journey Times | Tuesday (10:30AM/16:00PM) and Saturday (16:00PM)
Cala Tarida
Cala Tarida is an excellent place to base yourself for a perfect family holiday in Ibiza. The resort of Cala Tarida boasts the longest beach on the east coast of Ibiza. Ibiza's legendary sunset can also be viewed from the beach.
Where to stay in Cala Tarida for families
Insotel Club Tarida | Just Cala Tarida Beach, there is a restaurant and free bikes. Each room has a sun terrace/balcony. You can enjoy the outdoor swimming pool and garden. View the latest prices and availability for yor dates here.
Day trips from Ibiza for families
Formentera
The island of Formentera is located just 30-45 minutes by boat from Ibiza. You'll arrive at Port La Savina, where you can explore the island by bike, quad or motorcycle.
Formentera is made up of 69km of coastline with national parks, pretty coves and perfect beaches. For a day at the beach, head to Cala Saona, Ses Illetes or Els Arenals.
Other highlights include visiting the lighthouse of La Mola and viewing a perfect Balearic sunset. It's best to buy ferry tickets in advance. Click here for the latest prices.
Getting around Ibiza
By Bus | Buses in Ibiza are run by Ibiza bus. They serve most places on the island, with the main hubs being Ibiza Town, Santa Eulalia and San Antonio. Tickets are cheap, and the buses are generally reliable. If you're staying in San Antonio or Ibiza town, you'll save loads of money catching the bus from the airport. Sometimes you'll have to change buses at Ibiza town (e.g. Santa Eulalia to Playa d'en Bossa). Some buses to Ibiza town come as a coach.
By Hire-car | A variety of hire car companies operate on the island. It's best to book before you arrive and pick up your car at the airport. Compare car hire deals here.
By Car | If you want to have your own car during your stay in Ibiza, regular ferries run from Denia in Spain, taking around 2 hours. You can either drive to Denia via the channel tunnel or board a ferry from Plymouth to Santander from the UK before driving to Denia. View ferry tickers here.
Taxi | Taxis on the island can be expensive, but they are very reliable and provide excellent service. An extra charge will be added if you call a taxi rather than catch one from an official taxi rank. By night the price also increases. You can pre-book transfers online with Get Transfer. View transfer prices and availability for your dates here.
Start Your Ibiza Trip Planning Today
Ibiza | Frequently asked questions by families
Is Ibiza OK for families?
Ibiza is the perfect place for a family holiday in the sun. The Eastern side of Ibiza is the best area to stay for families. You can choose between the resorts of Cala Llonga, Santa Eulalia and Es Cana. San Antonio Bay and Portinax in other areas of Ibiza are also brilliant for families.
Where is best for families in Ibiza?
The Eastern side of Ibiza is the best area to stay for families. You can choose between the resorts of Cala Llonga, Santa Eulalia and Es Cana. San Antonio Bay and Portinax in other areas of Ibiza are also brilliant for families.
What is there to do in Ibiza for families?
There are endless activities and attractions in Ibiza well suited to families. The Aquamar waterpark or Camp Blanc Aquarium is perfect for a family day out. There are lots of stunning beaches to choose from too. Head to Cala Llonga, Cala Gracio or Es Cana beach for a perfect beach day as a family.
Where should my toddler stay in Ibiza?
The resort of Es Cana is perfect for toddlers. Choose between a self-catering apartment or one of the all-inclusive beachfront hotels. The beach is large and flat with crystal clear waters. You could also try San Antonio Bay with a toddler.